Hi and welcome! 
I'm Vytautė – an Āyurvedic Health Counsellor & Yoga Nidrā Teacher. 
Originally from Lithuania, I live in Brussels, Belgium with a fiery Spaniard who keeps my airy ways in line and with our two beautiful creations: a fierce little Miss who wants to take over the world and a laid-back little dude who is more into puzzles. We also share our home with a cute cross-breed, Juanita, who is undoubtedly the highlight of our sofa.
In the summer of 2015, my daughter was born. I had the most blissful maternity leave taking care of her but when she was only 8 months old, there I was, dropping her off at daycare and marching back to the office in my pantsuit. This separation broke me, driving me to anxiety and serious hints of depression that accompanied me for months. I remember feeling my entire body say "NO" very clearly to this arrangement every morning as I would leave her. I was trying to shush it. This experience taught me a very valuable lesson – I realised that I was living my life almost entirely based on the expectations of others and not following a path of my own design. My intuition was telling me things, yet, I was terrified to even think about honouring it. Things felt really off and so I started looking for answers.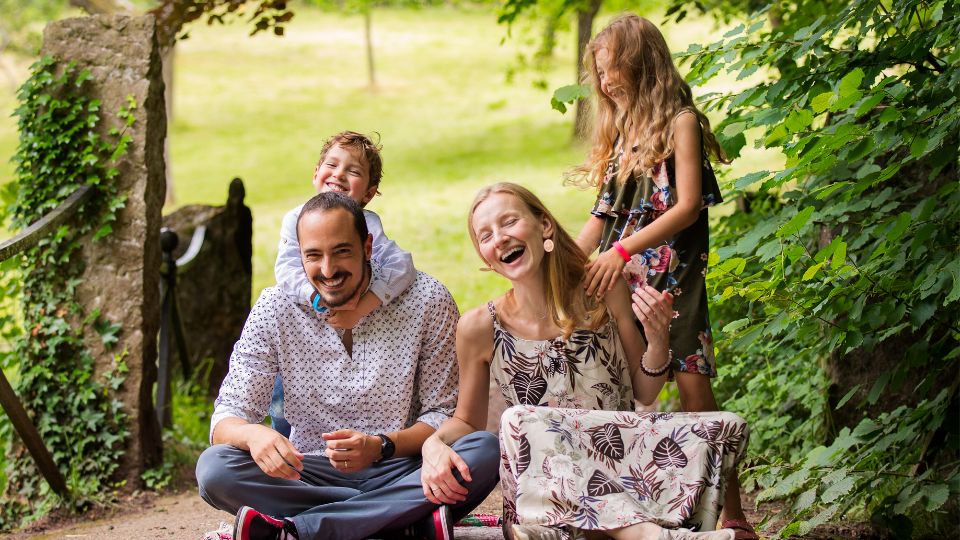 Fast forward to 2018, a year after the birth of my son, I randomly stumbled upon an introductory Āyurveda podcast that changed my life forever. I fell in love. I fell in love with how much sense Āyurveda made. I fell in love with how simple it could be to implement and make it my own. I fell in love how deep and comprehensive the Āyurvedic approach was compared to any other form of healthcare I had encountered. Most importantly, it provided me with tools to establish a deeper connection with myself, as well as giving me a greater sense of belonging – I started to view myself as an integral part of Nature (and She truly has all the answers if we JUST remember to pay attention!). Implementing Āyurvedic principles made me feel at Home in my own body. 
Āyurveda guides me every day.
Over time, it helped me understand my body-talk so much better. In addition to allowing me to manage my chronic insomnia, it also helped me alleviate (or dissipate completely) the following symptoms:
» chronic headaches (which I suffered since childhood)
» constipation & bloating
» PMS & painful, heavy cycles
» onset rheumatoid arthritis
» Anxiety (hello, motherhood!)
I am full of gratitude that it allowed me to come this far.
Since 2018, I've studied Āyurveda and Yoga Philosophy with the following Teachers: Myra Lewin, Dr. David Frawley, Robin Stamp, KP Khalsa and Kaya Mindlin.
In 2023, I've officially quit my decade-long career in the European Institutions to dedicate my time fully to sharing Āyurveda with others.  
Today, as your Āyurvedic Health Counsellor, my wish is to empower YOU to re-claim the feeling of having a healthy and a well-functioning body.
No matter where you are at right now, Āyurveda can meet you right there.
As your guide, I can too.
So, are you ready? 🙂
Vytaute is a great listener and an expert in her domain. You feel at ease very quickly, she is very open, very calm, sending you great vibes and asking great questions.
After the few sessions I had with her, my digestion was better – I could put into practice quick wins in my day to day behaviour that really made the difference. She was always very careful about making her recommendations practical and realistic – and that's why it works. You don't have to change everything from one day to another, just one small step every day works. After every session, I felt I really learned something and was happy to put it into practice and readjust until I found what was most convenient to me. I would recommend these sessions to everyone.
Laura